Recipes
Boneless Wings from the field Shawarma
Boneless wings from the field Shawarma with jalapeños, red onions, mayonnaise and tortilla chips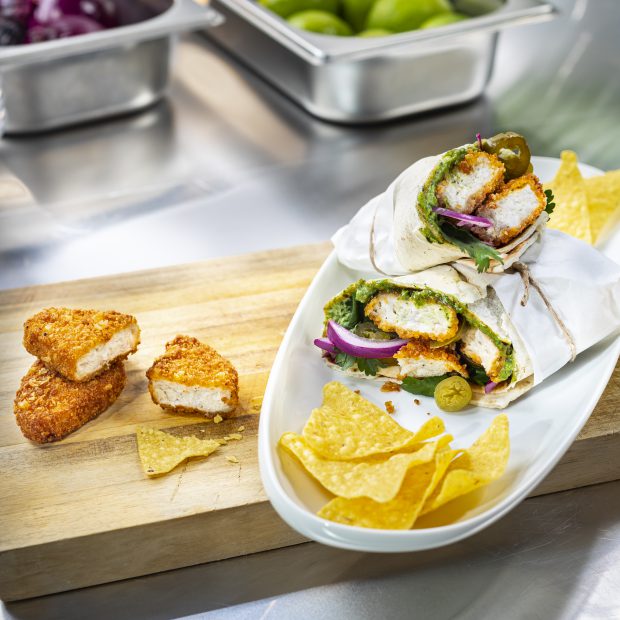 Preparation
Ingredients
1 Bunch

Coriander

100 ml

Soy milk

0.5 Tsp.

Mustard, medium hot

0.5 Tsp.

Salt

2 Tbsp.

White wine vinegar

200 ml

Rapeseed oil

1 pc.

Red onion

1 pc.

Lime

12 pcs.

4 pcs.

Flatbreads (for the Shawarma)

60 g

Jalapeños

100 g

Tortilla chips
Utensils
cutting board, knives, blender, blender jug, sieve, bowl, oven, deepfryer, baking tray, baking paper
For the mayonnaise, wash the coriander, shake dry, pluck the leaves and drain well in a sieve. Place half of the coriander leaves in a blender jug with the soy milk, mustard, salt and vinegar and blend until creamy and firm. With the blender running, slowly add the oil until the desired consistency is reached.
Peel the onion, halve it and cut it into fine strips. Wash the lime in hot water, dry it, cut it in half and squeeze out the juice into a bowl. Add the onion strips, mix and leave for approx. 10 minutes.
Preheat the oven for the shawarma (top/bottom heat 200 °C). Bake the pita bread in the oven for approx. 3 minutes. In the meantime, deep-fry the Boneless Wings according to the instructions on the packet.
Drizzle pita bread with coriander mayonnaise, cut Boneless Wings in half and add 3 Boneless Wings to each bread. Top with jalapeños, pickled onions and coriander. Roll up the pita bread into a shawarma and serve with tortilla chips.
Enjoy!
Your FRoSTA Foodservice Team