Recipes
Cauliflower-Coconut-Curry with Boneless Wings from the field
Vegan, crispy wings - guaranteed boneless - on delicious Cauliflower-Coconut-Curry.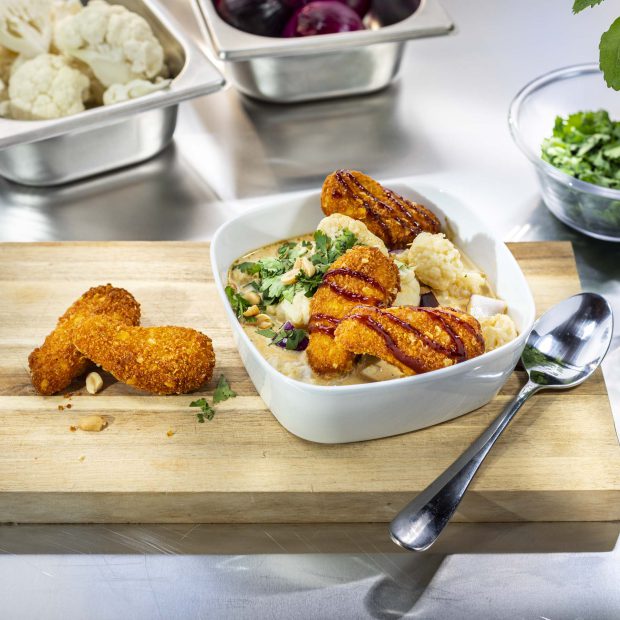 Preparation
Ingredients
1 pc.

Cauliflower

1 pc.

Red Onion

1 Bunch

Coriander

4 Tbsp.

Sesame oil

0.5 Tsp.

Coriander seed

0.5 Tsp.

Salt

0.5 Tsp.

Cumin

1 Tbsp.

yellow Curry Paste

500 ml

Coconut milk

12 pcs.

60 g

whole peanuts

40 ml

Teriyaki sauce
Utensils
pot with lid, cutting board, knives, sieve, oven
For the curry, wash the cauliflower, remove the stalk, quarter and cut into approx. 3 x 3 cm pieces. Peel and halve the onion and cut into large cubes. Wash the coriander, shake dry, remove the roots and pluck the leaves. Then chop coarsely.
Put the sesame oil in a pot and heat over medium heat. Add the cauliflower, onion, coriander seeds, salt and cumin and sweat for about 2 minutes. Add the coconut milk, curry paste and 500 ml water. Put a lid on the pot and cook over medium heat for about 15 minutes.
Preheat the oven (top/bottom heat: 230 °C). Bake the Boneless Wings on the middle shelf for approx. 5 minutes.
Arrange the cauliflower curry in portions in a bowl, add 3 boneless wings per portion and decorate with peanuts, teriyaki sauce and coriander.
Enjoy!
Your FRoSTA Foodservice Team