Recipes
Plant-Based Fish Burger with Avocado Dip, Tomato & Onion Salad
A vegan fish burger? There's nothing to it! Not only is the "fish" light, but it's incredibly easy to prepare.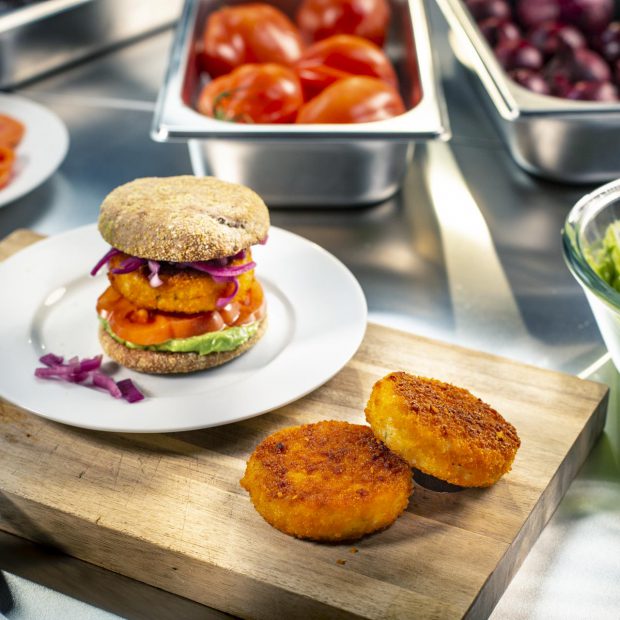 Preparation
Ingredients
4 pcs

English Muffins

4 pcs

1 pc.

Avocado

1 pc.

Organic Lime

1 pc.

Clove of Garlic

2 pcs

Red Onions

1 pc.

Oxheart Tomato

1 Tbsp.

Herb Vinegar

0.5 Tsp.

Salt

0.5 Tsp.

Pepper

1 Tsp.

Sugar
Utensils
Cutting Board, Knife, Mixing Bowls, Tall Measuring or Mixing Cup, Immersion Blender, Toaster, Combi-Steamer
Prepare English Muffins and plant-based fish burger patties each according to the package directions.
For the dip, cut the avocado in half, remove the pit and scoop out the flesh with a spoon. Rinse lime under hot water, cut in half and squeeze the juice. Peel and halve the garlic. Puree these ingredients together with salt and pepper using an immersion blender.
For the salad, peel the red onions and cut them into thin strips. Combine with salt, sugar and vinegar and let the mixture sit for 20 minutes.
Rinse the tomato, dry it, remove the core, and cut it into slices.
Spread dip on both sides of the English muffin. Then top with 2 tomato slices, a fish burger patty and some onion salad before serving.
Enjoy!
Your FRoSTA Foodservice Team