Recipes
Crispy Portobello Burger from the Field
Vegan Crispy Portobello Burger from the Field with BBQ Sauce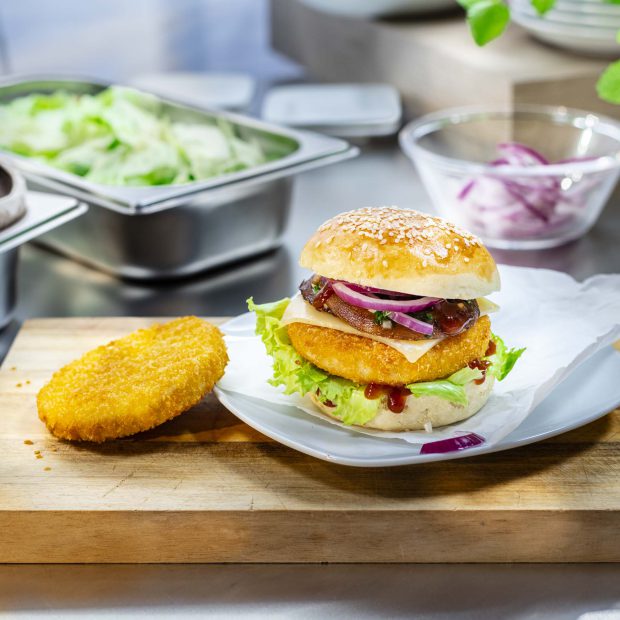 Preparation
Ingredients
6 Stalks

Parsley, smooth

2 pc.

Garlic cloves

4 Tbsp.

Olive oil

0.5 Tsp.

Salt

2 pcs.

Portobello mushrooms

40 g

Lettuce

1 pc.

Red onion

4 pcs.

4 pcs.

Burger buns

4 slices

Vegan cheese

100 g

BBQ Sauce
Utensils
Cutting board, knife, contact grill, bowl, deep fryer
Wash the parsley, shake dry, pluck off the leaves and cut into fine strips. Peel and finely chop the garlic. Mix the parsley, garlic, oil and salt in a bowl.
Switch on the contact grill and preheat to 250 °C. Clean the mushrooms with a kitchen towel, cut in half lengthwise and marinate with the parsley-garlic marinade. Place the mushrooms in the contact grill and cook for 3-5 minutes.
In the meantime, chop the lettuce, wash and drain well in a sieve. Peel the onion and cut into fine rings.
Fry the Crispy Burger in a deep fryer according to the instructions on the packet.
Drizzle burger buns with BBQ sauce and top each with lettuce, Crispy Burger, cheese, Portobello mushroom and onions. Drizzle with BBQ sauce again and finish with the other half of the bun as a lid.
Enjoy!
Your FRoSTA Foodservice Team